Precision Tumbling Media
Precision Tumbling Media is available in many small sizes and shapes. Precision media is sized in millimeters. Polishing and cutting formulations along with the small size of the media allow processing of small parts.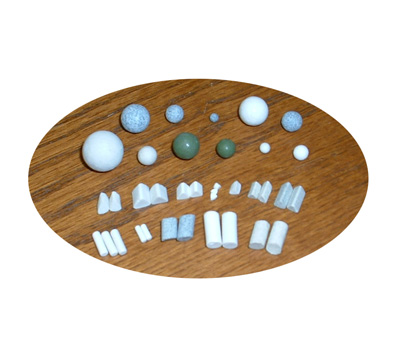 Precision Ceramic Media Formulations
FORMULATION
DESCRIPTION
ROYSON MC
MEDIUM CUTTING TUMBLING MEDIA. PERFORMS WELL ON ALL METALS.
GOOD CUTTING ACTION AND A LONG WEAR LIFE. LEAVES PART WITH
CLEAN
MATTE FINISH.
90 LBS. PER CUBIC FOOT.
ROYSON P
NON ABRASIVE MEDIA WITH A PORCELAIN BODY. EXCELLENT FOR
BURNISHING. LEAVES PART WITH A CLEAN BRIGHT FINISH. FOR
BURNISHING, POLISHING, ELIMINATES SHARP EDGES.
90 LBS. PER CUBIC FOOT.

Precision Media Formulations
Precision Ceramic Media Shapes & Sizes (mm.)
SHAPE
IMAGE
SIZES
STRAIGHT CUT CYLINDERS
A B
1.5 X 3
2 X 4
2.5 X 8
3 X 10
4 X 8
2 X 7
3 X 6
3 X 8
4 X 10
5 X 10
STRAIGHT CUT TRIANGLE
A B
2 X 2
8 X 8
3 X 3
3 X 6
4 x 4
4 X 8
6 x 6
6 X 8
SPHERE
2 MM – 20 MM
NOTE: SPECIAL SIZES ARE AVAILABLE IN MINIMUM 2000 LB. QUANTITIES

Precision Ceramic Media